Test the Best – How an Italian Company Became One of the Most Successful European Card Manufacturers
For Compunet Cards, one of the recipes for success is to choose the leading technology partners – and thus strengthen its own innovative power and production efficiency. In Catania, the company has now put two more Atlantic Zeiser CARDLINE VERSA systems into operation.
If you have established yourself as one of the leading card manufacturers and personalizers in Europe within less than 20 years, you have certainly done something right. Filippo Longo, CEO of Compunet Cards, does not have to think twice: "One of the reasons for our success is certainly that we always select suppliers for our production technology who are among the technology leaders in their respective fields." However, state-of-the-art technology is never an end in itself, but must always contribute to implementing the company's philosophy: short production times, fast and faultless delivery, extremely competitive prices and superior product quality – all this with the widest possible range of order sizes. For the production of gift and loyalty cards, Longo has therefore now put two more CARDLINE VERSA systems into operation, in addition to the two CARDLINE VERSA systems with which Compunet Cards has already had excellent experience for eight and seven years respectively.
Headquartered in Catania, Sicily, the Italian company is still relatively young. Filippo Longo, who describes himself as an "enthusiastic and tireless entrepreneur", founded the business in 2002 because he was fascinated by the possibilities of UV offset printing on plastic substrates, such as PVC and polystyrene, and the processes and technologies involved. The company then initially concentrated on telephone scratch-off cards for major telecom providers on the one hand and on the production of financial cards, which was certified by Visa and MasterCard, on the other.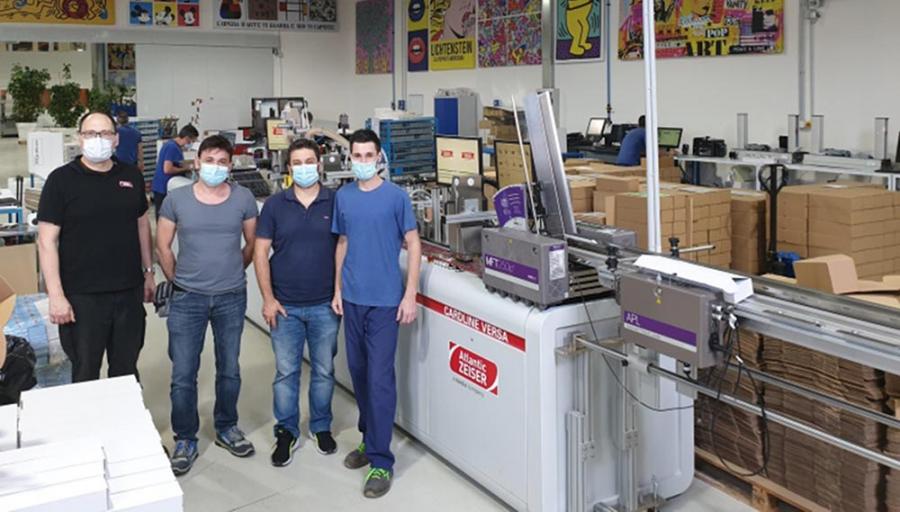 Over the years, as the phone card business slowly phased out, Longo increasingly focused this part of production on gift and loyalty cards. At the same time he pushed ahead with internationalization. Today Compunet Cards has an export ratio of 90 percent, and around 100 employees generate annual sales of over ten million euros. Through a dense network of partners, the company is present in more than 40 countries worldwide. Its customers include both smaller local companies and large internationally active corporations, including many well-known brands.
"We quickly made a name for ourselves in the industry because we have always been very open to new production technologies, and my highly-skilled team is always eager to learn and to adopt innovative manufacturing techniques," says Longo. This applies to the entire value chain, starting with the punching of the card and carrier material, applying the magnetic strips, and printing and personalizing the cards, right through to packaging and dispatch.
The intensive business relationship with Atlantic Zeiser dates back to the early days of Compunet Cards, when they ordered several fully equipped CARDLINE systems for the production of telephone scratch-off cards. "Business with the major telecom companies was very demanding, not least in terms of security requirements. But we could always rely on Atlantic Zeiser's systems," says Longo.
In 2012, when the rundown of the scratch-off card business finally became apparent, the era of card personalization with innovative drop-on-demand inkjet technology began at Compunet Cards. "Atlantic Zeiser had already achieved impressive results in this area," Longo recalls. Compunet Cards invested in a first CARDLINE VERSA with comprehensive control and verification systems to achieve the goal of "total error free" production. The system performed so well that a second CARDLINE VERSA was installed the following year. And in June 2020, as already mentioned, two more CARDLINE VERSA were procured.
"We now have a production capacity of over 1.5 million cards per day and are so flexible that we can process orders ranging from a few thousand to several million cards highly efficiently," says Longo proudly. "Over the course of our long-standing business relationship, we are extremely satisfied with Atlantic Zeiser. This applies not only to the technology and the systems we have installed, but also to the comprehensive expertise and quality of the service teams. All of this contributes greatly to the fact that we and our sales partners are able to meet our customers' current and future challenges in the best possible way."